Teeth Whitening
Since it was first introduced as a way to remove common stains, teeth whitening, or teeth bleaching, has quickly become one of the most popular cosmetic dental procedures among residents in the greater Raleigh, North Carolina, area. Due to its effectiveness, estimates suggest roughly 15 percent of dental patients nationwide have used this professional procedure to make their smiles magazine-ready and to create a healthier personal appearance.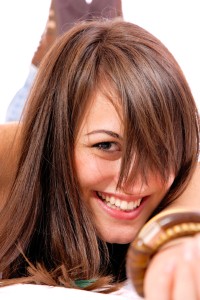 Today, professional teeth whitening is a fast and reliable procedure that has been deemed safe by the American Dental Association (ADA). The technique used by most Raleigh cosmetic dentists is so simple that it can help patients increase the whiteness of their smile by two to five shades in only a matter of days without expensive laser or light-based treatment.
Still, whatever method patients choose, the ADA recommends that patients consult their dentist before seeking teeth whitening treatment. In some instances, patients who have tooth sensitivity, extremely dark stains or a single dark tooth may need to treat an underlying condition.
Patients who are looking for the best cosmetic and family dentistry in the Raleigh area can rely on the affordable dental care offered by the professionals at the offices of Dr. Thomas E. Cooke D.D.A. P.A. Here, North Carolinians can receive the gentle, patient-centered care that sets Dr. Cooke's services apart from other Raleigh dentists.
The differences between Dr. Cook's take-home bleaching and store-bought products
While long-term data from the ADA indicates that there are no significant risks to store-bought teeth bleaching materials, the quality of these teeth whitening products can vary. Some whitening strips or gels may also need to be taken over a long period of time, making the price of treatment more costly.
By comparison, Dr. Cooke's take-home bleaching kits can take as little as two days to achieve results. These tools are also offered to his patients for free in certain instances. Dr. Cooke's qualifying new patients, as well as those who refer a friend or loved one, can receive a free teeth whitening kit, which can further reduce the cost of this care.
How Dr. Cooke's teeth whitening procedures can enhance your smile
When patients schedules an appointment with Dr. Cooke, they will first have impressions of their teeth and special trays will be made for the procedure. From there, patients can conduct the rest of the procedure when they have time during their busy schedules. Dr. Cooke provides patients with whitening gel, which they can place inside the trays at home. Patients can then use this take-home procedure for 30 to 60 minutes per day until they receive satisfying results.
Contacting the offices of Dr. Cooke for cosmetic dentistry today
While effective, most patients who choose to use teeth whitening procedures are advised to follow up with their initial treatment every six months. Since coffee, cigarette smoke and red wine can all stain teeth, depending on the patient, more regular appointments with a Raleigh dentist may be needed. As a result, it is important that patients who want to achieve the best results seek the services of a dentist in Raleigh that has years of experience with this procedure.
At the offices of Dr. Thomas E. Cooke D.D.S. P.A., we provide a wide array of procedures in addition to cosmetic dentistry, including walk-in dentist services, emergency dentistry and beneficial oral health procedures like tooth fillings, making Dr. Cooke the first choice in Raleigh cosmetic dentistry.