Welcome to the world of gentle family dentistry in Raleigh, North Carolina. Here you'll find a team of experts committed to providing high-quality dental care for your entire family – all while keeping your comfort and well-being a top priority.
With years of experience, our specialists understand that going to the dentist can be stressful, so they strive to make sure every visit is as pleasant and relaxing as possible. In this article, we'll explore the advantages of choosing gentle family dentistry in Raleigh for your oral health needs.
Gentle family dentistry provides personalized treatment plans tailored specifically to meet your individual goals and objectives. Our experienced professionals provide comprehensive exams with minimally invasive treatments that keep discomfort at a minimum while still ensuring optimal results.
We believe it's important that everyone feels heard and respected when it comes to making decisions about their healthcare journey; an approach that allows patients to feel liberated and empowered throughout the process. Keep reading to learn more about why gentle family dentistry could be right for you! By Mihir Bava, D.M.D.- Your Premiere Family Dentist in Raleigh, NC!
→ Take the time to read our various articles, including: 
–Raleigh Dental Check-Ups And Cleanings: Tips For A Stress-Free Experience
–Raleigh Family Dental Care For Children: Tips For Oral Health Maintenance
–How To Choose The Best Emergency Dental Care In Raleigh For Your Family?
–Best Gentle Dentist In Raleigh
–Family Dentist In Raleigh: What Are The Different Services?
Our services
Dental Crowns: A dental crown is a cap that covers the entire visible surface of a tooth. It's used to restore a tooth's shape, size, and strength, as well as improve its appearance.
Dental Implants: A dental implant is a metal post or frame that is surgically anchored into the jawbone to support a replacement tooth.
Dental Sealants for Children: Dental sealants are a protective coating applied to the chewing surfaces of the back teeth to prevent tooth decay in children.
Dentures: Dentures are removable artificial teeth that replace missing teeth and surrounding tissues.
Gum Disease Treatment: Gum disease (periodontal disease) is an infection of the gums and bones that support the teeth. Treatment options include scaling and root planning, antibiotics, and surgery.
Root Canals: Root canal therapy is a treatment used to remove an infection from the inside of a tooth and save it from extraction.
Tooth Fillings: Tooth fillings are used to repair a tooth that has been damaged by decay. Common filling materials include gold, silver amalgam, tooth-colored plastic, and glass.
Contact information:
Address: 4905 Green Rd #111 Raleigh, NC 27616
Call us: (919) 872-1700
Improved Comfort And Relaxation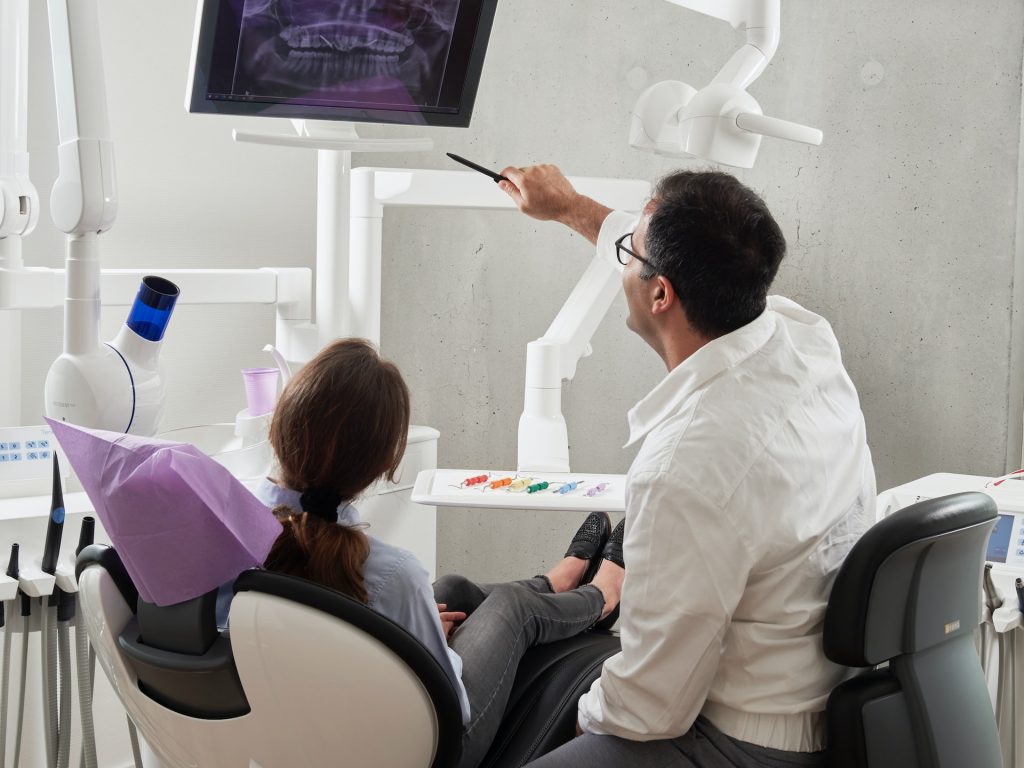 Gentle family dentistry in Raleigh offers some advantages, improving comfort and relaxation while providing excellent dental care.
For those who feel anxious about their visit to the dentist, gentle family dentistry can provide a soothing environment.
The team at these offices is focused on making sure each patient feels comfortable throughout their treatment.
The use of advanced technology allows for more precise treatments with less pain or discomfort.
This means fewer appointments for long-term procedures as well as shorter wait times between visits.
In addition, certain procedures such as fillings can be done without injections, reducing anxiety even further.
With Mihir Bava, D.M.D in Raleigh, patients can look forward to improved comfort and relaxation during all stages of their dental care journey.
Comprehensive Preventative Care
At Mihir Bava, D.M.D in Raleigh, NC, we believe that comprehensive preventative care is the cornerstone of a healthy smile. Our team of experienced dentists and hygienists takes great pride in providing top-notch services to keep your teeth clean and strong.
Our focus on prevention includes:
Regular checkups
Thorough cleaning appointments
Fluoride treatments
Sealants for children's teeth
Dietary counseling for optimal nutrition and health education on proper brushing and flossing techniques
Dental X-rays detect any problems lurking beneath the surface early so they can be treated before they become serious issues.
With our personalized approach to preventive dental care, you can trust that we will help you maintain healthy smiles throughout the years!
We strive to make sure your visits are comfortable and stress-free while helping you reach high levels of oral hygiene. Through our commitment to quality treatment, we work hard to ensure both adults and children receive outstanding results every time they visit us at Mihir Bava, D.M.D – because everyone deserves a beautiful smile!
One-Stop Solutions For All Dental Care Needs
At Mihir Bava, D.M.D, we understand that comprehensive preventative care is essential for preserving your oral health. Our experienced dentists are dedicated to providing our patients with the best in dental care services and solutions to ensure your teeth stay healthy and strong.
Our one-stop dental solutions provide everything you need for all of your family's oral care needs: from scheduling regular checkups to cosmetic treatments and even emergency procedures! We want to make sure that everyone in Raleigh can access top-quality, gentle dental care when needed – no matter their age or insurance status.
Our wide range of services makes it easier for families to get the attention they need quickly and conveniently. Plus, with our friendly staff members always ready to answer any questions you have about treatment plans or payment options, you can rest assured knowing that you'll be taken care of at every step along the way.
Customized Treatments For Every Member Of The Family
Are you looking for a dental practice that offers personalized treatments tailored to the needs of each member of your family? Look no further than Mihir Bava, D.M.D in Raleigh!
From infants to seniors and everyone in between, our team is dedicated to providing compassionate care with individualized attention. We understand how important it is to have a dentist who knows each patient personally and can work together as a team on any necessary treatment plans.
Our experienced dentists offer specialized services for all ages, from preventive measures like cleanings and sealants to more advanced procedures such as root canals and crowns. Plus, we go above and beyond by offering cosmetic options like teeth whitening or veneers, so you can take control of your smile's appearance.
With Mihir Bava, D.M.D Gentle Family Dentistry in Raleigh, ensuring your family's oral health has never been easier!
Specialized Technologies For Better Outcomes
At Mihir Bava, D.M.D in Raleigh, we understand that dental care is more than just a physical fix. It's about helping you feel liberated from fear and discomfort during your visit.
That's why we offer specialized technologies to ensure the best possible outcomes. Our state-of-the-art tools help us provide comprehensive diagnoses and treatments tailored exactly to your needs.
We use advanced X-ray technology for precise images of teeth and mouth structures so that our dentists have all the information they need to make informed decisions about treatment plans.
We also employ digital impressions to generate detailed models of customized oral prosthetics such as crowns or bridges without having to take physical molds of your teeth.
By utilizing these innovative technologies, we can give you peace of mind knowing that you're receiving top-quality care with fewer visits required.
With Mihir Bava, D.M.D, you'll be on your way to a healthier smile—free from worry and full of confidence!
Long-Term Benefits For Oral Health
At Mihir Bava, D.M.D, we strive to provide our patients with the best outcomes for their oral health. Our specialized technologies are designed to ensure these results.
But it's not just about short-term success; we also want our patients to benefit from long-term improvements in dental care and overall wellness.
By investing in modern equipment and advanced treatments, we're able to give our Raleigh patients lasting solutions that prevent costly repairs down the road.
We take a holistic approach when it comes to your individualized needs, so you can trust that all of your concerns will be addressed — now and in the future.
Plus, our team is dedicated to providing an enjoyable experience every time you visit us — because feeling comfortable during treatment is essential for achieving positive results over time.
Highly Experienced And Caring Professionals
We all want to feel cared for and comfortable when visiting the dentist. At Mihir Bava, D.M.D in Raleigh, you're guaranteed an experience unlike any other.
Our highly experienced and caring professionals are here to make your visit as stress-free as possible!
Our team is dedicated to providing quality care with a gentle touch every step of the way. From our friendly front office staff to our expert hygienists and dentists, everyone at Mihir Bava, D.M.D takes great pride in making sure that your dental needs are met with the utmost attention, respect, and kindness.
We understand how important it is to be heard – so no matter what questions or concerns you have, we will take time to listen and provide personalized solutions tailored just for you.
With us by your side, taking care of your smile has never been easier!
Conclusion
In conclusion, gentle family dentistry in Raleigh offers many advantages for all members of the family.
From improved comfort and relaxation to customized treatments for each member, it's easy to see why so many families choose this type of care over traditional dental practices.
Furthermore, with specialized technologies that can help ensure better outcomes, as well as highly experienced and caring professionals, you can be sure that you're receiving quality care no matter what your needs are.
Overall, gentle family dentistry is a great option if you want to make sure that everyone in your family gets the best possible oral health care available.
With its comprehensive preventive care services and one-stop solutions for all dental care needs, there's no denying that choosing gentle family dentistry can offer long-term benefits not just for today but also for years to come.