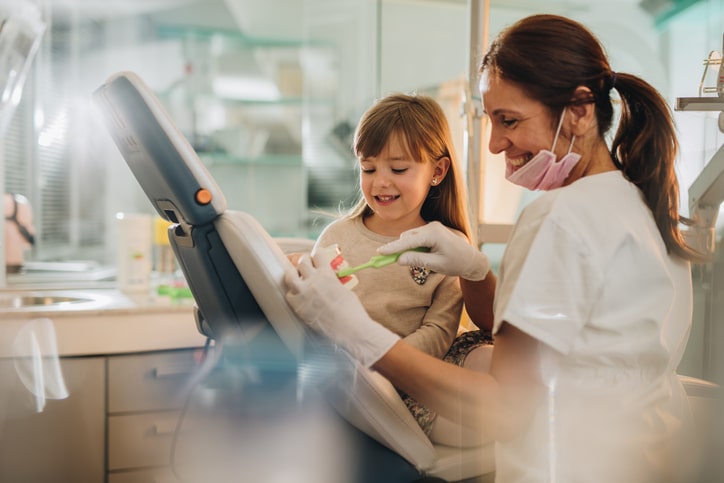 There are many factors to consider when choosing a dentist for you and for your family. When searching for a new dentist, you may discover that there are literally dozens of choices in your area; if you live in a large urban environment, there may even be hundreds of dental practices. How do you select the right one to help you maintain great oral health?
In this guide, we will offer tips on choosing a dentist, focusing specifically on three aspects to keep in mind as you evaluate the choices.
Tip #1: A Dentist's Track Record
There are many dentists in a given area, and just as many specializations in the dental field. Each dentist may offer different services – some may be family dental practices, while others only treat adults or children. Others may offer specialty services like dental implants, orthodontics, or cosmetic dentistry. Once you have gauged your specific needs, choosing a dentist remains a daunting process. To evaluate the best dental practices in your area, look at that dentist's track record:
Does he or she have a good reputation in the area?
Does the dentist have customer/patient reviews available?
Has the dentist won any service awards?
Have there ever been any complaints filed with the Better Business Bureau or professional dental organizations against the dentist?
A great dentist will have many satisfied patients, and those patients are likely to share their experiences with others. The first step in evaluating a dentist, then, is to look for reviews on sites like Facebook, Yelp, or Google.
Tip #2: A Dentist's Level of Compassion
It should go without saying that not all dentists are alike. Each has his or her own unique approach to patient care. Compassion is a valuable commodity in the dental profession – this aspect helps patients overcome their concerns and fears, knowing that their dentist has their best interests and their health at the top of priorities.
Again, reading patient reviews is a great way to gauge the compassion level of a potential dentist. Dentists that operate family-oriented practices typically stand out; these dental practices work with both children and adults, and that often breeds a more compassionate approach to oral healthcare. Talk to your neighbors, coworkers, and friends about the dentists they visit. These people might be able to shed light on how they are treated and whether they believe they are getting the compassionate treatment they deserve from their dental practitioners.
Tip #3: Quality of Care
Quality of care is hard to quantify in any professional industry, and that includes the dental profession. A dentist's approach to oral healthcare and the quality of service they provide can help make a dental practice a success, or it can lead to failure.
What is quality healthcare? For dentists, this can include many factors like:
The types of procedures and treatments available.
What payment options patients have, including a good selection of insurance acceptance and pay-as-you-go/credit options.
How patients are treated – does the dentist get good reviews and positive word-of-mouth based on their care?
Professional achievements and awards, such as being named a top dental practice or receiving recognition for their career and specialties.
In simple terms, if patients feel as if their needs are being addressed and that the level of care is sufficient to help them maintain their healthy, bright smiles, they are likely to share that information with others. Quality dentists aren't hard to find, but it can take a bit of searching before you find the dental professional that meets your expectations and your family's needs perfectly.